The most beautiful phase of a girl child's life is blossoming into a woman. Sure, the world perceived it as a reason to clip her wings and restrict her even before she understands what has happened to her. Menstruation is a normal physiological process of females at their reproductive age and yet girls and women in India go through extreme struggles to manage their period every month. A large chunk of the Indian population believes this natural cycle to be a 'curse', 'impure', and 'dirty'. It is surrounded by social taboos and supernatural beliefs. The poor knowledge and understanding of mensuration may lead to unsafe hygienic practice that increases the risk for reproductive and genitourinary infection, cervical cancer, etc.
So it becomes integral to create awareness about mensurational hygiene. In order to increase awareness our NGO—"Gursidak foundation" organized a session on Mensurational awareness for underprivileged girls by Dr. Aashmeen Shahi ( Emergency medical officer) at GTB Hospital, Ludhiana on 30th January 2022, At slum area of nangal dam, Punjab. In the starting of the session, she talked about various misconceptions and beliefs related to period. She gave numerous examples in order for them to understand them clearly, moreover she talked about irregularities in periods in the first few months and the menstruational pain. She suggested several ways in order deal with cramps during period. She talked how important is to eat properly or exercise daily. She motivated each and every girl to adapt a healthy lifestyle.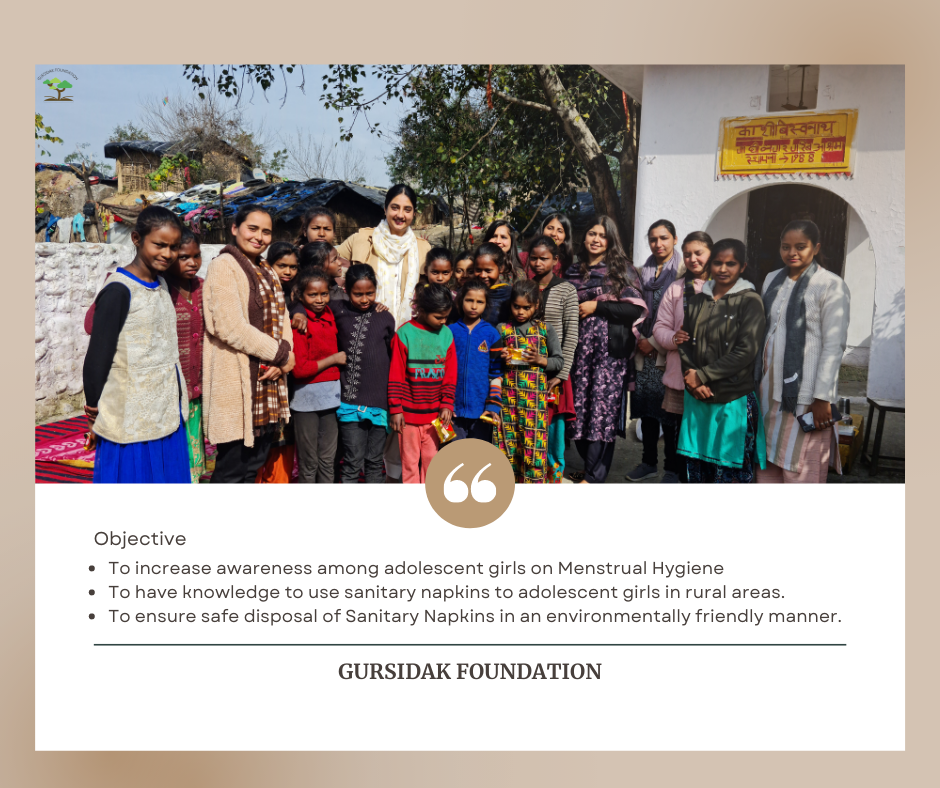 She also showed concern for how important it is to use clean cloth or pad and how long one should wear a pad. She talked about various diseases and Why mensuration hygiene are important.
At last, she ended the session by clearing their doubts and the misconceptions, fear and false beliefs about menstruation. It was a very interactive session every girl showed their participation by asking questions or clearing their doubts. At the end of the session, a pad drive was conducted, We are thankful to Dr. Aashmeen Shahi for taking out time from her busy schedule and conducting this very informative session. In India where a large number of girls from less economically stable families drop out of school when they begin to menstruate and where even after immense development still there is more than 50% of menstruating girls and women in India use old cloth which is often reused, ashes, newspaper, dry leaves husk and sand during the period. So it's time to break the taboo and stigma surrounding Mensuration. It is the time to raise awareness about the challenges regarding access to menstruation products, education about mensuration, and period-friendly sanitization facilities.
"It's our responsibility to break the taboo that we created. It's time to not just break the taboo but bring changes in society and end the suffering of hundreds of girls."